Communal Truck
Communal Truck
Update, April 24, 2022 – the House of Toxins communal truck has been sold and is supposedly headed to Guatemala. The news came too quickly to be able to have a proper farewell party.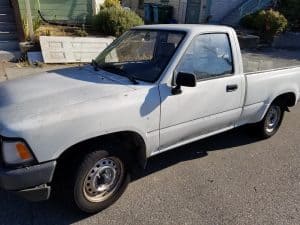 The communal truck is available for close friends to borrow. The truck has a four speed manual transmission, so don't try to shift into 5th gear as it will be unpleasant.
Borrowing the Truck:
Let us know you want to borrow the truck so we can confirm nobody else has asked for it.
We need to know who is using the truck – please do not lend the truck to other people.
Remember to lock the doors.
Unless it is filled with feces or toxic waste, don't feel a need to wash the truck – it has the patina that collectors value.
Don't shift into fifth gear since it is a four-speed transmission.

Calendar
The truck is generally available but please let us know if you need to use it so we can ensure that nobody else has requested it and we don't need it. Reserved dates (and street sweeping reminders) are below: