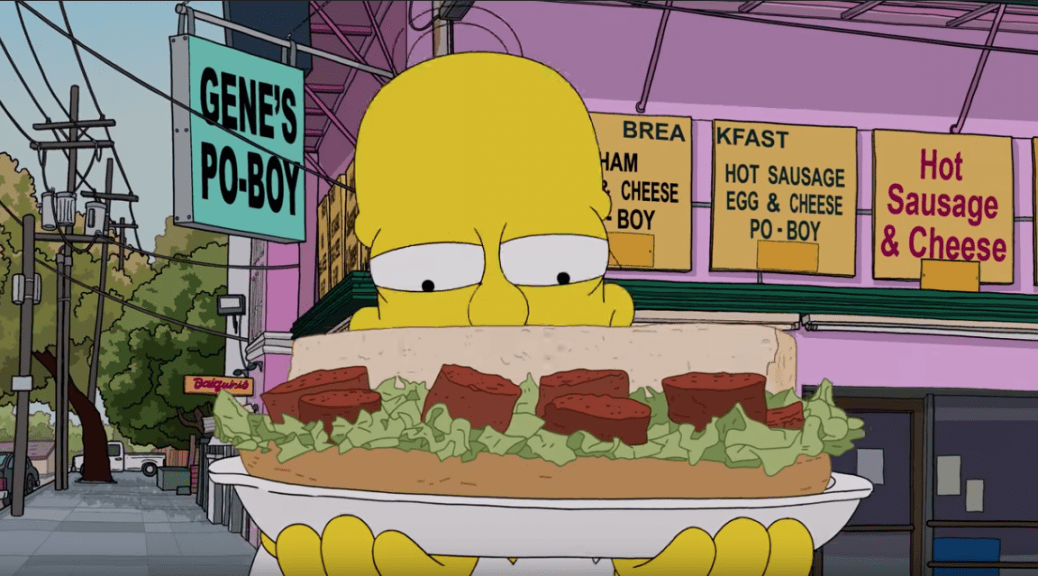 Eat Like Homer Simpson in New Orleans
Eat Like Homer Simpson in New Orleans
The definitive "how to eat in NOLA" guide has come out, and we have The Simpsons to thank for it. In the episode Lisa Gets the Blues, we are treated to an all out NOLA binge eating extravaganza lead by Homer Simpson. If you want to recreate Homer's gastrointestinal iron man challenge, you can use the helpful map below, which includes all of the establishments mentioned in the episode and the exact dish Homer enjoyed.
Homer seemed to complete the challenge in less than two minutes, but I recommend a few days or maybe even a week if you're not a seasoned professional.
If you want a quick walkthrough, start with a hurricane or two at Pat O'Brien's, and then eat crawfish at Bevi Seafood Co., lamb tagine at Jamilia's, grilled lamb sausage at Emeril's, zucchini bisque at Bon Ton Cafe, a crab meat po-boy at Johnny's Po-boy, a duck po-boy at Crabby Jack's, a chicken sausage po-boy at Gene's Po-boy, a crawfish sausage po-boy at Tracey's, a cochon de lait po-boy at Cochon, a turkey giardiniera po-boy at DeMartino's, a roast beef po-boy Parasol's, an alligator po-boy at Jaques-Imo's, catfish almondine at Mulate's, crawfish almondine at Mahoney's, boiled crawfish at Frankie & Johnny's, Cajun crawfish at Cajun Seafood, fried crab cakes at Galatoire's, pecan catfish at Parkway Bakery and Tavern, seafood mirliton casserole at K-Paul's, fried chicken at Dooky Chase, a muffuletta at Central Grocery and Deli, smoky bacon greens at Katie's, seafood au gratin at Brennan's, jambalaya at Coop's Place, Creole sweet potatoes at Antoine's, pralines and cookies at Loretta's, oyster pralines at The Praline Connection, oyster patties at Arnaud's, pecan pie at Palm Court Jazz Cafe, boudin balls at The Court of the Two Sisters, and a bunch of stuff at Commander's Palace. Of course, make sure to leave room for beignets at Cafe Du Monde.

If you try the Homer Simpson NOLA dining challenge and have a favorite, or if you think Homer missed the best place ever, please leave a comment.