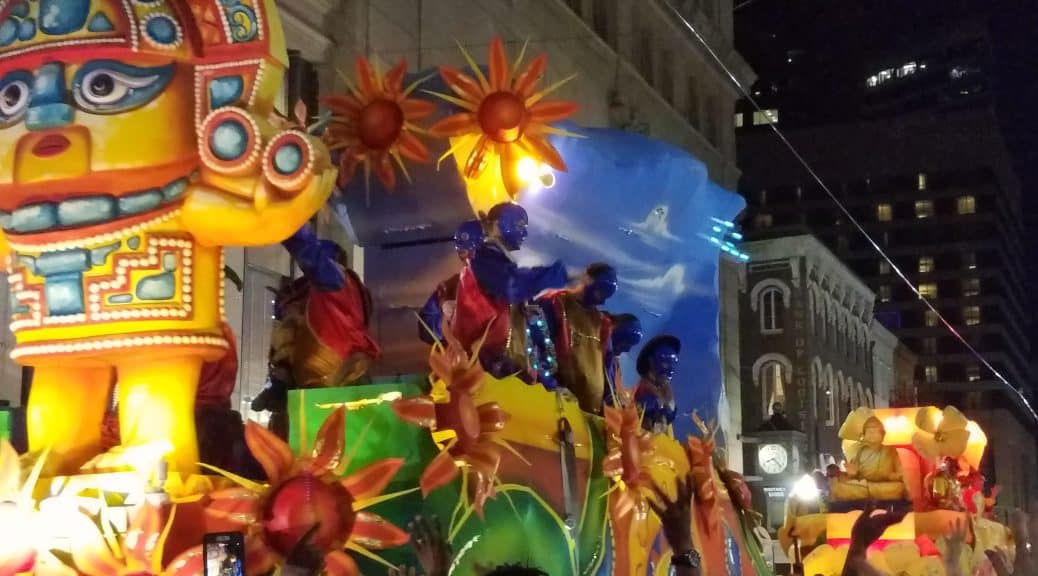 Tips for Surviving Mardi Gras in New Orleans
Tips for Surviving Mardi Gras in New Orleans
I'll start by saying this article is actually about surviving the full Mardi Gras season that starts on January 6 (King's Day / Feast of the Epiphany) and runs-up to Fat Tuesday, the single day of Mardi Gras in New Orleans (a different calendar day each year, but always the day before Ash Wednesday).  If you're looking to maximize your festival experience, arrive in NOLA no later than the Saturday prior to Mardi Gras and stay through Ash Wednesday.
King Cake
For those that don't know better, St. Patrick's day signifying the availability of Shamrock Shakes may seem like the pinnacle for seasonal desserts.  Those that do know better realize that nothing beats the King Cake.  The iced, sugar-sprinkled pastry is a desirable snack companion for breakfast, brunch, lunch, dinner, and back after a late night nourishment.  Buy a King Cake and, when your King Cake is a quarter of its original size, buy another King Cake.  Repeat this process until you can't find King Cakes for sale (coincidentally, the end of Mardi Gras).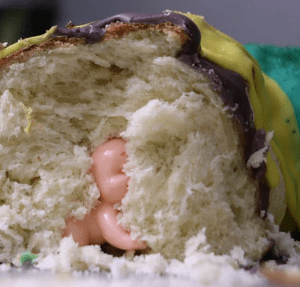 There's also a little plastic baby hidden inside the King Cake, and the New Orleans tradition says the person getting the baby in their slice buys the next King Cake.  Some bakeries give you the plastic baby separately for you to insert in the cake because drunk people choke on them and… lawyers.  If a bakery does gives you the baby separately, pop the baby into your mouth and pretend to choke.
While there are many great places to obtain a fresh King Cake in NOLA, I'm going to give a shout out to the Bywater Bakery, from which I can personally vouch for the Creole Cream Cheese and Berry Chantilly King Cakes.
Traffic and Driving
In the month leading up to Mardi Gras there's about 70 parades going on, many of which severely impede the ability to travel, even on foot (don't even think about getting around a parade in a car).  As a general rule, travel on foot or bike whenever you can.  Whether you are trying to find a parade or avoid getting stuck somewhere because of a parade, you'll want some tools… a popular app for your phone is Mardi Gras Parade Tracker, but if you're limited to web, the Mardi Gras New Orleans site has a good list of parades (although frustrating to navigate).
One other note, driving in NOLA can be a challenge any time of the year but the surge of tourists for Mardi Gras means a lot of people unfamiliar with the city doing crazy things like heading the wrong way down a one-way street.  As a result, many of the locals give up on societal traffic norms too.  And to make a perfect storm, Mardi Gras season is the Olympics of alcohol consumption.  Stay aware of traffic and never assume that cars see you or that they will follow basic traffic laws, even stopping at stop signs.
Parades
If traffic is the dark cloud, the parades associated with it are the double… no, triple rainbow reward.  I personally have never been very interested in parades, and after attending a parade in New Orleans, I understood I just hadn't met the right parade.  The main difference is the audience participation, where the Krewe providing the parade is constantly interacting with people packing the street, showering the spectators with rewards (see "Throws", below).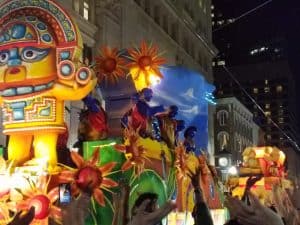 Parade routes can extend more than 6 miles through the city, fully packed with spectators from start to finish, and up to several hours of floats going by.  For popular parades, people will arrive many hours early and stake out space on the curb or the neutral ground (what people refer to as the "median" in many places).  If you're wondering where you can watch a parade from one of those famous NOLA balconies, you can't…  almost all of those balconies are in the French Quarter, which is too confined for full-sized parades and the few places that have balconies on main parade routes are reserved lifetimes in advance by people with a lot more money than you have.
Throws
A big part of the parade excitement is collecting "throws", typically beads, doubloons (festival coins), toys, cups, and many specialty items specific to each parade.  For best results, you'll want to have a costume, a gimmick or overwhelming enthusiasm to catch the attention of the rider making the throws, but even if you look plain and stand quietly you'll find more than enough throws making their way to you.
As a first timer it is easy to go crazy and collect as much as you can, but even in a single parade it's pretty easy to end-up with 25 pounds of plastic that eventually you'll wonder why you have all of it as you're paying $50 to check an extra bag on your flight home.  If you want to collect something, look up the details for the parade you are attending and try to get the rare, specialty item (e.g. a decorated shoe if the big win from the "Muses" parade).  These specialty items can be hand-crafted and are usually cherished even by NOLA locals.
Money
While all of the parades are completely free, things like snacks and beverages are harder to purchase because businesses are overwhelmed with the customer traffic.  As a result, many places add outdoor stands for selling drinks (including alcohol) and many will also switch to a cash-only policy, which can result in ATM's running out of bills.  If you're headed to a packed area and think you may need to purchase anything, it's good to have cash before you get there.
Mardi Gras
Hopefully you've paced yourself, since Fat Tuesday is likely to sap every last bit of energy from you and possibly what's left of your liver.  If you're planning on sleeping-in to prepare for the long day, think again… the party starts early with some parades rolling at 8AM.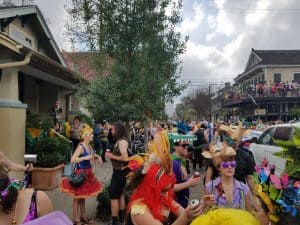 The French Quarter is ground zero for the festivities, but by 9AM, adjoining neighborhoods like the Marigny will have streets packed with party-goers slowly making their way towards Frenchman and the Quarter, altering what would have been a casual 10-minute walk into a 2-hour slowly-migrating party.
While a costume will be completely normal at any parade, Mardi Gras is definitively the day to wear one.  Many people go all-out crazy, but if you're not ready to jump in the deep end of the pool, a wig or an amusing hat is a simple way to feel like you're participating.
For people that are old and tired (over 35), leaving NOLA on Tuesday afternoon or even Tuesday morning is perfectly respectable… going all through the evening is probably best left with the (20-something) kids that are willing to do things like brave the insanity of Bourbon Street.
Ash Wednesday
Congratulations, you survived Mardi Gras and made it to Ash Wednesday!  If you're still a little foggy, I'll remind you that everybody in New Orleans was at the party yesterday, so many restaurants have incapacitated staff and are closed or have very limited options.  If you're looking for food, check the restaurant's website and call to confirm they really are open.  And while it might be considered a sin to do so, you might just skip going out, stay home in your pajamas, and eat whatever remains of the King Cake.
Want to learn more about NOLA's liberal drinking laws and find out why people have money pinned to their chest?  Be sure to check out Tips for Californians Visiting New Orleans!  And hey – if you decide to go to NOLA and need a great, family-friendly house, please check out House of Toxins NOLA on Airbnb!